Every third weekend or first Friday or next to last Wednesday through Saturday of any given month there is something going on in the Texas German Hill Country.  On a drive to Boerne, we noticed an ad for something called Czhilispiel and decided to look it up.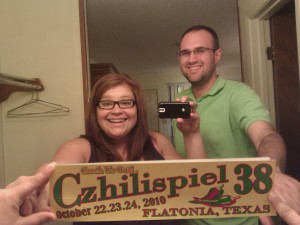 Czhilispiel is a weekend festival and chili cook-off that is hosted in Flatonia, TX. Held every 4th weekend in October, Czhilispiel boasts an impressive chili cook-off, fun family activities, live entertainers, lots of carnival games, carnival rides and of course carnival food. Also, a 5k. That we decided to run. Flatonia is an incredibly quaint town with a population of around 1,500.  I am fairly certain that the entire population of Flatonia was at Czhilispiel.
The events all took place "downtown" on the street between the stores and the railroad tracks.  We arrived on Friday night and checked into our room at the Comfort Inn Flatonia.  After that, we knew we wanted to check out the grounds and carnival and figure out where we needed to be for the 5k that was happening the next morning.
Every carnival comes with a certain requisite cast of characters, props and menu items. Topping my list of favorites are Carnies, Tilt-A-Whirls and Jumbo Corn Dogs. We walked around playing the game "Patron or Carnie." In case it is not clear, it is a game where you guess who is a Patron and who is a Carnie. We are really good at it.
After several stimulating rounds, we perused the myriad food booths. There were spiral cut potatoes and fried everything and tacos and, of course, JUMBO CORNDOGS. Since we had the 5k early the next morning, we decided to split a jumbo corndog and to really do some damage the next day. It looked a little something like this: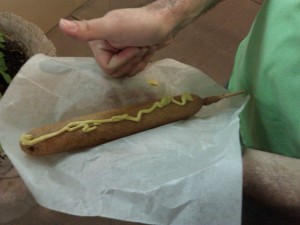 It was delicious. They always are. It's hard to go wrong with wieners in bread and drenched in mustard. We headed back to the hotel, since the 5k started so early.
DAY 2:
The 5 k was… intense. I had yet to finish my running program and had yet to run for more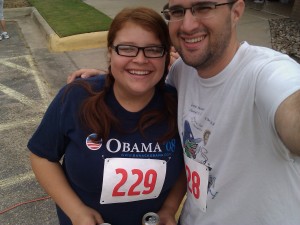 than 20 minutes at a time. Also, we were in the German Hill Country. Hills. Everywhere. Neither of us had ever run up or down hills. So, we made the switch to the walking group early on. David ran ahead for a while and then looped back to walk with me. While he was gone, I made friends with the local Methodist minister's wife. She was very nice and waved at EVERYONE that walked/ran by and then told me all about them. The best part about this whole experience (aside from it being sponsored by Shiner beer) was that in the end, David won 3rd place for his division. We stayed around for the awards ceremony to show our support for our fellow 5k-ers andno one was more surprised than we to hear that in 3rd place for the Men's 29 and under walking division was David Norelid.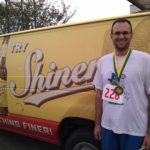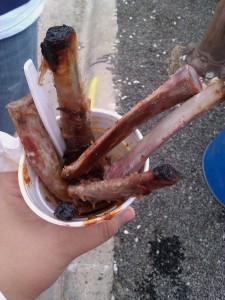 We went to the hotel and showered and got ready for the rest of our day at the festival. First on our list was to find food to inhale. Fortunately, there was a chili cook-off and we were able to meander throughout the tents and grab samples of chili and ribs and barbecued chicken and sausage. We ate so much that we were miserable, justifying it with the fact that we had walked a 5k and had burned enough calories to break even. We broke even a few times.
Peppered throughout our food coma were various activities and performers. There were bands performing throughout the day and white tigers to go and see. We competed in the egg toss. David would have you believe that there was a failure on my part to deliver the egg far enough, thus causing him to fail in catching the egg. I will have you know that it was David's fault that we lost. Deal with it.
After exhausting ourselves with all that egg-tossing, we had to eat some more. Next on the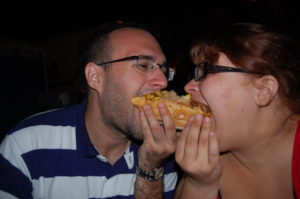 menu were 2 spiral cut potatoes with cheese and bacon, fried Oreos and a jumbo chili cheese dog (which we ate Lady and the Tramp style)
There were so many people and things to see. It was a lot of fun and we were bummed at the thought of heading back so soon. After perusing the schedule, we found an activity called, "Backseat Driving Mamma." We had no clue if this was a show or something we participated in, but knew that the parade the next morning and the subsequent "Backseat Driving Mamma" event were worth staying an extra day.
Czhilispiel did not disappoint. The parade was awesome. There were tons of floats advertising all the surrounding areas festival royalty and the dates of their upcoming festivals. There were so many tractors and old cars and horses and politicians and a kid yelling from the top of the tallest tractor at his friends to look up and notice him already.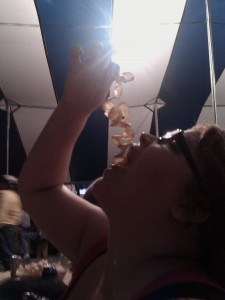 We may or may not have eaten another spiral cut potato at this time. Along with a super large big gulp sweet tea. Or two. We had signed up for the Backseat Driving Mamma contest and were still unaware of what exactly that entailed only to find out after the fact that it was a contest in which a team drove a riding lawn mower together. One member drove while the other was pulled behind in a small trailer. The driver was to be blindfolded and the passenger was to shout directions at the driver and lead them in a figure 8 pattern around two cones. Below is a picture of the course set up: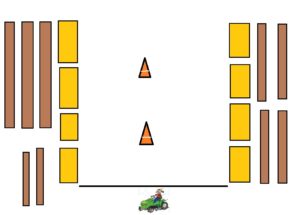 Here is that same course with the suggested(right) path: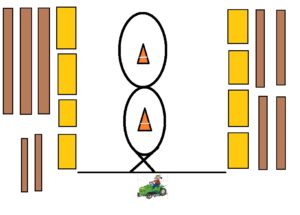 Same map, our path of destruction: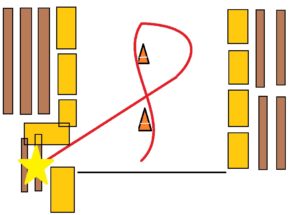 Here is what happened:
They hand David the mask as I climb into the trailer. The mask is the very mask worn in the movie, Scream. It is disturbing to say the least. They let us know it is time to start and the mower lurches forward. We make it through the first half of the figure 8 beautifully, barely clipping the top cone on our right turn. As we turn, David should be able to hear me yell, "Go left!" However, he was not acting like it. So, I decide to repeat myself, several times and with increasing volume and hysteria. At some point, I decide to yell at David to just, "Stop! STOP!! STOOOOOOP!!!!!!" I should clarify that the point at which I made that decision was when I noticed that we were careening toward the hay bale barricade and the passengers that sat just beyond those bales. The mower came to a stop once David felt the impact of the collision. I saw the collision. I saw the onlookers leap up from the benches and run out of our way. What I also saw was that David had pinned a man's legs between two benches. I jumped out of the trailer and apologized and asked the man if he was ok. His friend swatted the air and said, "Don't worry about him. He looked like that before the accident!" and then helped his friend up, neither of them managed to spill either of their beers during the incident. Once the initial fear that we had murderized everyone subsided, we realized that everyone was laughing. This got us laughing. A lot. I have rarely laughed as hard as I did in the hours following the Backseat Driving Mamma experience.
Fortunately for anyone that will read this, I happened to record the whole thing. In an act of sheer prescient genius, I turned on the video recorder of my cell phone and placed it in my bra for the ride. Since the video is not so good, it serves as an audio account and sounds a lot like a black box recording of a crashing plane. It is terrifying but worth a listen.
If you ask him why he would not listen to me, David will say, "I was convinced I was heading the right direction." I consider the Backseat Driving Mamma experience to be the first of several glimpses into my future.
I'm still pretty excited.