Several months ago, David and I got excited about a thing called Meatless Monday. We were not excited enough to take our practice seriously, though. As I look through chat logs and our shared calendar, I realize that Meatless Monday has been on the calendar since November 15, 2010. I suppose it is about time we got serious about this. The health and environmental benefits are numerous. Of course, we aren't making any huge dents, but I hope we can encourage some friends and family to join us.
Lately we have renewed interest in this endeavor and are hoping it sticks. Last week, we intended to make it happen. In the middle of the day, we realized we had blown it by eating meat. So, we changed it to "Tofu Tuesday." When that failed, we decided to declare the next day "Shoulda-Coulda-Woulda Wednesday."
Monday, July 12, 2011:
Late breakfast/Lunch: Big bowls of cereal. Delicious.
Dinner: Vegetarian lasagna. David and I make a pretty delicious spaghetti sauce. David started the sauce and I prepared the vegetables. We added spinach to the sauce and broiled the veggies after they had been mixed with spices. There were at least 4 layers. David made an awesome Bechamel sauce. We had a friend over and ate more than half of the massive lasagna. It was amazing.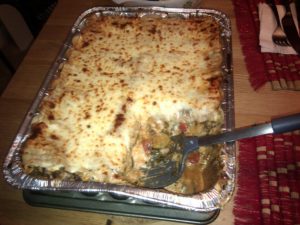 I am looking forward to our next Meatless Monday. It is an awesome opportunity to try new things and to take care of ourselves. Granted, the amount of cheese that went into the lasagna can't possibly be good for anyone. I'm sure we will get better at that.